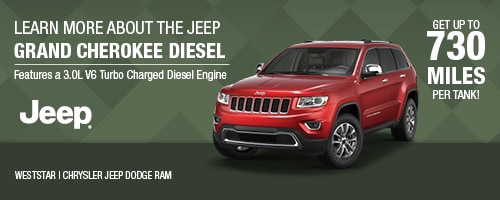 Performance and Efficiency at its Best
If it's practicality, performance and fuel economy that you're after, look no further than the 2014 Jeep Grand Cherokee Diesel. Not only does it come with a refined styling that's bound to turn heads, not only does it deliver 240 horsepower and 420 lb.-ft. of torque thanks to its 3.0-liter V6 diesel engine, but it will also save you a bundle at the pump thanks to its combined estimated fuel economy of 25mpg.
Needless to say, if you're already a fan of the
Jeep Grand Cherokee
, you won't be disappointed by its diesel-powered counterpart.
Since there's so much more to this SUV than meets the eye, we'd be more than happy to answer any questions you may have about it. Feel free to fill out one of our easy-to-use online contact forms and we'll get back to you as soon as possible. Or if you'd rather experience this beauty first-hand, your test drive awaits at our dealership here in
Monahans, TX
.